News and Events


Light Brigade, NeST introduce India fiber optics training program KERALA, India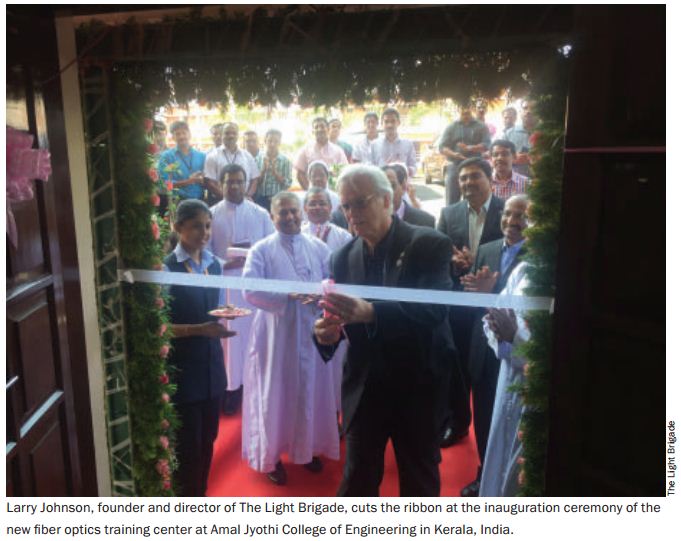 The Light Brigade Inc., the fiber optics training subsidiary of infrastructure specialist AFL that is headquartered in Tukwila, Wash., is joining forces with the NeST Institute of Fiber Optic Technology Pvt. Ltd. (NIFOT) of Kerala, India, to open the Amal Jyothi-NeST Center for Fiber Optic Technology.
Aiming to provide leading fiber optics training solutions to meet the high demand for skilled fiber optics technicians in India, the curriculum for the program was developed by The Light Brigade and has been approved by the Electronic Technicians Association (ETA) International. Students who complete the training can earn an ETA Fiber Optic Installer certification. In addition, the program offers course graduates job placement assistance across India and the Middle East. "[The] Light Brigade is excited to be a part of the expansion plans for providing more fiber optic training opportunities in India," said Larry Johnson, founder and director of The Light Brigade. "This collaboration with the [Amal Jyothi] engineering college will provide more opportunities for people to be trained, and ultimately employed, as fiber optic field technicians."
The Light Brigade provides instructor-led public and custom classes on fiber optics design, maintenance and testing including advanced topics such as fiber to the x (FTTX), dense wavelength division multiplexing, polarization mode dispersion and chromatic dispersion. NIFOT is a developer of computer and communication technology, including fiber optics, networking, microwave and software.
Larry Johnson- Director & Founder of Light Brigade Inc. USA at NIFOT Lab

ANFOT - Amal Jyothi NeST Center for Fiber Optic Technology Inaugurated on

15th Jan

-16.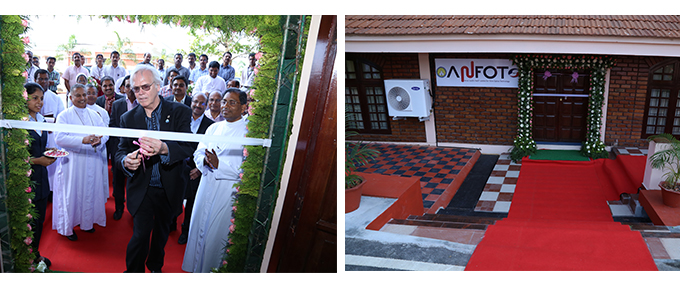 NeST partners with Amal Jyothi College of Engineering to set up Fiber Optic Training Center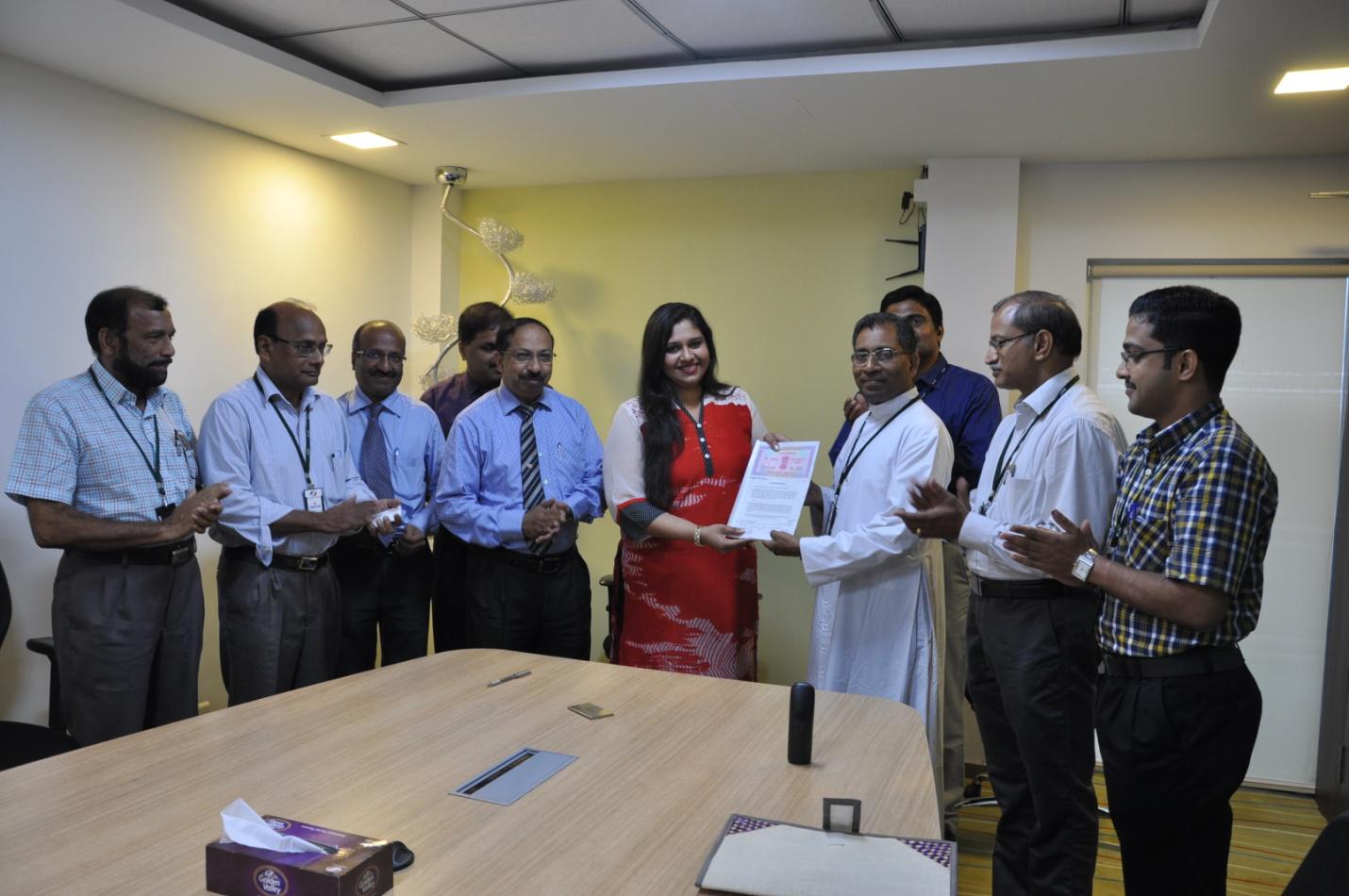 Kochi– NeST Group, a leading high-tech manufacturing & solution providing company with over 25 years of experience in fiber optic products and fiber-to-the-home solutions, is partnering with Amal Jyothi College of Engineering (AJCE), Kanjirapally, to set up a world-class fiber optic training center at the College campus. The agreement was signed by Ms. Nazneen Jehangir, Executive Director, NeST Group, and Fr.Dr.Jose Kannampuzha, Principal of AJCE at NeST Tech Park, Kochi, on 6th Nov. 15. NeST is already partnered with Light Brigade Inc, world leader in fiber optic training from the USA for offering their certified courses at NeST Institute of Fiber Optic Technology Pvt. Ltd., Aluva.
The new training center at AJCE will provide students with world-class training from Light Brigade Inc, USA, on a wide variety of fiber optics-related topics with hands-on field experience. The students will also have opportunity for industrial placement at NeST Group's fiber optic manufacturing facility and to learn from industry experts. The training will enable students to find suitable placements with leading fiber optic companies in India and abroad where there is a shortage of trained manpower. Classes will commence at AJCE in January 2016.
NeST Launches its first Fiber Training Institute at Kochi, Kerala – NeST Institute of Fiber Optic Technology Pvt. Ltd. This institute is a Joint venture of NeST Group of Companies and The Light Brigade Inc. USA .

The center will be inaugurated in March 2014 at Aluva, Kochi in the presence of esteemed dignitaries from Light Brigade USA & NeST Group.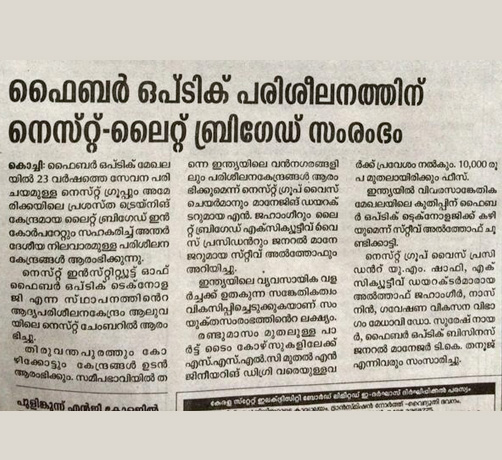 Madyamam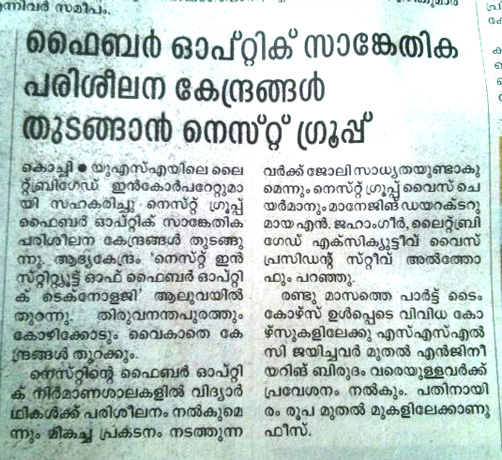 Manorama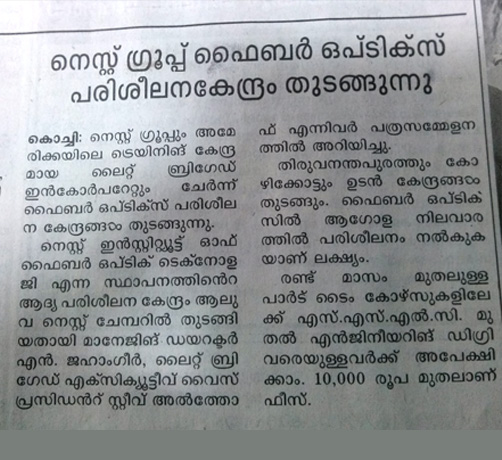 Mathrubhumi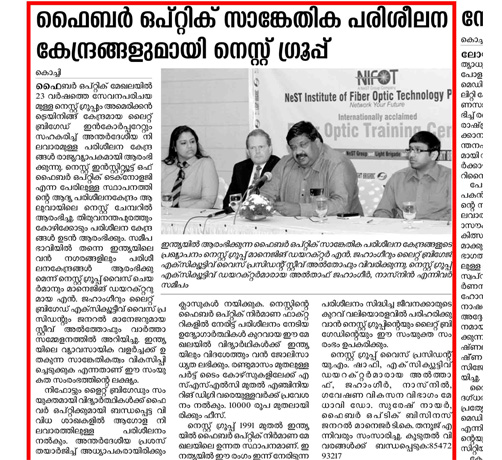 Metro Vartha